Unisyn Voting System
Below you can view states and counties in which the Unisyn equipment is available. For more information about Unisyn Voting Solutions, please click here.
Products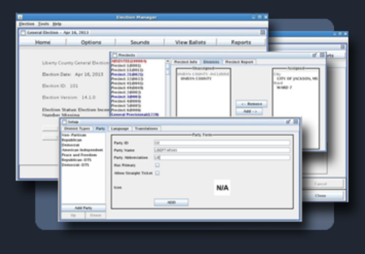 Unisyn OCS Upload Only EMS License
OpenElect Central Suite (OCS) – software applied to our EMS Laptops to form our elections per county.
Services included with OCS are Ballot Layout Manager (BLM), Election Manager (EM), Election Server (ES), Tabulator Client (TC), Tabulator Reports (TR), and Tabulator.
Tabulation takes 10 seconds per Memory Stick.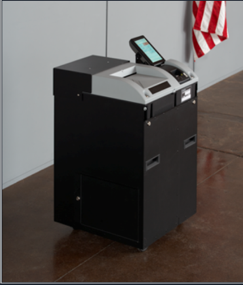 OpenElect Voting Optical Scan (OVO)
Can accept an unlimited amount of ballot styles.
Equipment used to scan ballots quickly for elections.
Accepts written or electronic ballots from the OpenElect Voting Interface.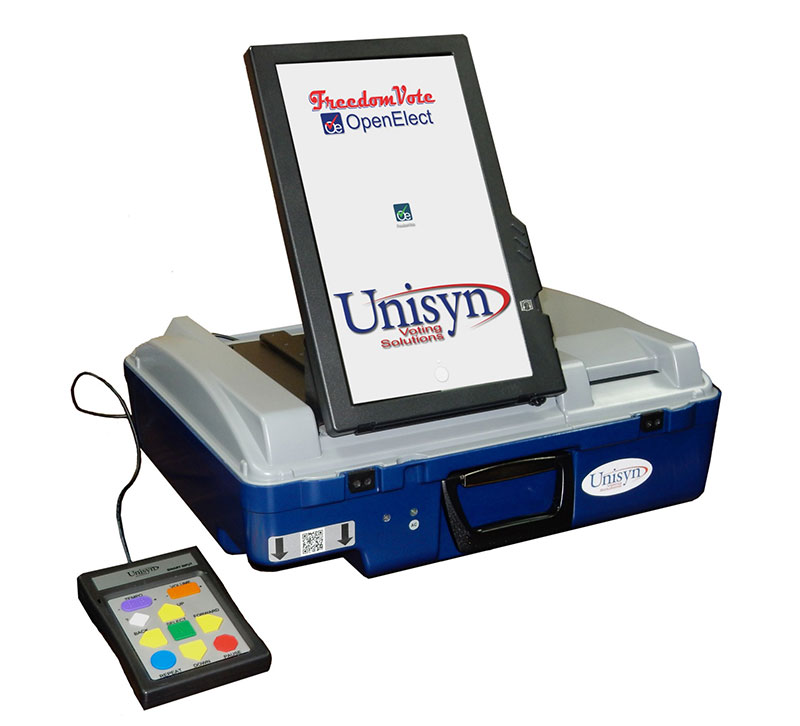 FreedomVote Tablet (FVT)
Self-contained voting device contains a touchscreen, barcode scanner, tethered keypad and a printer
Light-weight, compact, easy to setup and close down
Reduces the cost of pre-printed ballots by printing a paper ballot with just the push of a button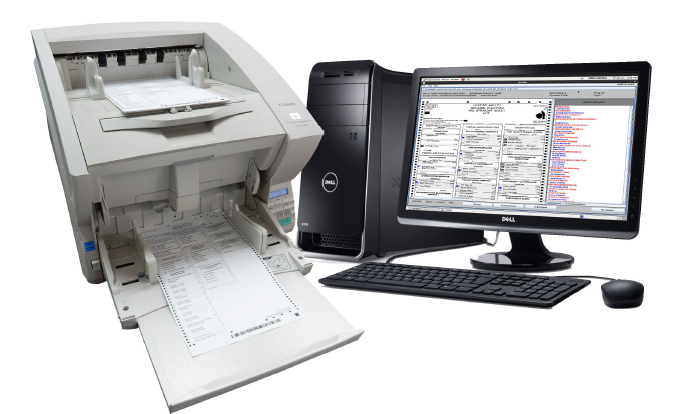 OVCS
High speed processing of ballots.
Captures ballot images and extracts write-in images from ballots.
High levels of physical security and encryption.
EMS Laptop
Laptop used to upload OCS software for elections.
Used for ballot layout, tabulation and for election codes on the OpenElect Voting Optical Scan (OVO) and OpenElect Voting Interface (FVT)
Flash Drives
Flash drive filled with data specific to your county's election.
These are placed into the USB port on the EMS Laptop for election coding and tabulation.
Tabulation takes 10 seconds per flash drive to upload results.
Ballots
Labeled and wrapped by style and boxed by precinct
11 x 17 of each style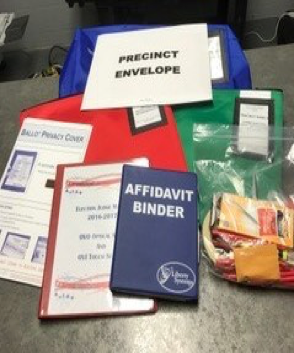 Vote Center Kits
This red bag includes:
Signs and supplies such as official ballot return case seal
Election results return envelope
Voted ballots sign
Election official sign
Ballots with write-in's sign
Handicap sign
Voter instructions sign
A no smoking sign
Precinct Kits
This green bag includes:
Affidavits
Official poll record
Official ballots
Narrative "How to" for OVO and FVT
Spoiled ballot envelopes to name a few
Services
Annual Election Equipment Preparation
Clean, test and inspect equipment.
Includes maintenance on each of the optical scan and touchscreen units.
Lock and Load OS – per Election
Run blank, fully voted, over voted, write-in, and accuracy count tests for each ballot style
Test screen calibration
Lock and Load TS – per Federal Election
Run Logic and Accuracy test
Test screen calibration
Ballot on Demand Setup – per Election
Setup ballot files on EMS Laptop
Calibrate ballot printers
Ballot Coding – each Precinct per Election
Creation of ballot layout for each style.
Ballot Audio – each Precinct per Election
Audio file creation for elections for all races, candidates, and public questions
Early Vote Center Setup – per Election
Test and setup early voting machines in Clerk's office and off-site locations
Public Test – per Election
Perform retesting of 10% of the machines to be used on Election Day.
Election Day – per Election
Personnel on site to assist in Election Day troubleshooting and Election Night tabulation and results posting
Post-Election Retab and Provisional – per Election
Perform a 5% audit of ballots voted on Election Day as well as Vote By Mail, Early Voting, and Grace Period Voting